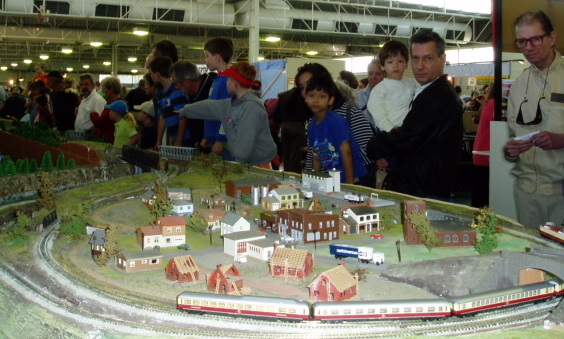 The annual Model Railway Show run by AMRA(WA) is on again for all three days of this Foundation Day long weekend (31st May — 2nd June). We are participating again in this year's show by helping run the mighty "Arid Australia" layout — a truly massive layout capable of running immense length iron-ore trains with multiple locos and nearly one thousand wagons. (The "Arid Australia" group is not a part of the WAMRC, but all of it's members are also members of the WAMRC — so it is closely linked.)
12 years ago at the same exhibition (on 3rd June 1996), "Arid Australia" set an official Guinness World Record for the longest model train consisting of 650 iron ore wagons and 4 locomotives. They lost the record on 27th November 2005 when Miniature Wunderland in Hamburg, Germany made an 887 car train with three locomotives.
This year, all the stops have been pulled out to try to win the record back. The layout has been extended (to allow for longer trains), double tracked (to allow other trains to run while the record attempt is set up — which takes a long time), converted to DCC (for better power control and distribution), and every owner of a significant number of HO scale iron-ore cars in the Perth area has been approached to see if they can be borrowed for the weekend. They have nearly 1,100 cars available and enough space on the layout to run a train of 900–950 cars. Can it be done? Come on down to the show and find out for yourself!
Image: The WAMRC N‑Scale layout "Maple Deutshe" on display at the Model Railway Show in 2005