The WAMRC has four club owned layouts in three different scales on our premises. Here is a short description of each of them.
---
Public
HO

Scale Layout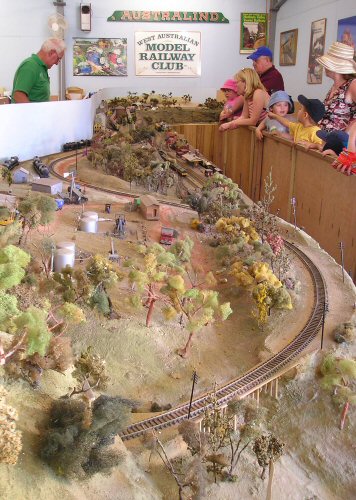 The public HO scale (3.5mm to the foot, or 1:87.1 on 16.5mm gauge rails) layout consists of two main loops of track with multiple holding yards hidden from view at the rear. It uses a simple automated system made from old telecommunications relays and track mounted reed switches operated by magnets glued under the last car of each train, to control operation and sequence an endless parade of constantly different trains into view of the public.
On the top loop we run prototypically accurate freight and passenger trains from all over Australia — both past and present. Some of the classic trains you can see are "The Overlander" (Adelaide — Melbourne), "The Ghan" (Adelaide — Alice Springs our model is of the old Ghan — before the extension to Darwin was built!), "The Indian-Pacific" (Perth — Sydney), and a variety of freight trains.
On the bottom loop (closest to the viewing public) we run trains designed to appeal to our youngest visitors. The biggest problem we have is that the young-un's know far more about these trains than we do! Boy do we cop it if we put the wrong coaches behind an engine…
When not open to the public this layout is available to members to run their own locomotives and rolling stock on. It uses standard DC control and is compatible with running OO scale models (English 4mm to the foot, or 1:76.2 on 16.5mm gauge rails).
---
Main
HO

Scale Layout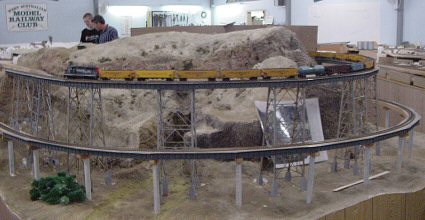 Situated behind the public layout and occupying about 80% of the available floor space, the main HO Scale layout is the club's primary indoor layout. It consists of a single main line about 70m in length — at scale speeds it takes around 20 minutes to drive once around the layout! The main line is cleverly serpentined around the layout twice to make it appear that there are multiple main lines.
Radio operated DCC (Digital Command Control) is used to allow drivers to control their trains without having to worry about the mechanics of switching electrical blocks over. This system is fantastic for a layout of this size as it allows the driver to walk around with their train and maintain control over it at all times. We use the NCE DCC system.
The layout shape is like a "four-fingered hand". A train has to go up and back each finger twice in order to complete a full circuit of the layout. Numerous passing loops, sidings and stations create interest by providing sources and destinations of freight and passengers.
Although designed primarily as an end-to-end layout for operational purposes, the two main yards at the end termini are actually adjacent to each other. Some tracks interconnect them allowing continuous running around and around if you are feeling lazy.
In addition to the main line, a branch line extends from the (approximate) middle of the main line run to a major passenger terminus situated on a slightly elevated dog-leg off the end of one of the fingers.
The main line is fully operational (on most nights) and most yards are working. Scenic detail is probably about 70% complete and is being worked on actively.
The club has many HO locos and rolling stock, or some members choose to run their own.
---
N Scale Layouts: "Weepy Junction" and "under construction"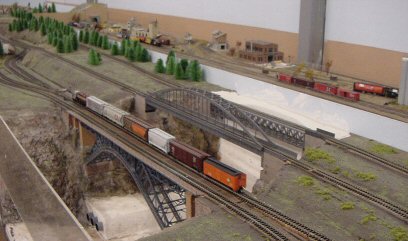 "Weepy Junction" is a small, portable N Scale layout (8m x 0.3m) consisting of two adjacent and interconnected shunting yards with a passenger station at one end and a fiddle yard at the other. At the other extreme, a much larger permanent layout (17m x 2m) is currently under construction. This is intended to include a high speed running line (for ICE, TGC or Japanese 'Bullet' trains), two continuous loops for normal passenger trains and a branch line and goods yard for freights.
The club successfully exhibited "Weepy Junction" and our old N Scale layout ("Maple Deutsche", since dismantled) at the AMRA(WA) Model Railway Show in June 2005 (see the gallery for pictures from the show). Although we didn't win any prizes, we had a lot of fun and received a lot of positive feedback — especially about the quality of the scenery. We also took "Maple Deutsche" down to Albany in October 2005 for the Albany Hobby Expo. That was also a very successful and enjoyable exhibition — until nearly the whole crew came down with a gastro bug after it was over!
---
G Scale Garden Railway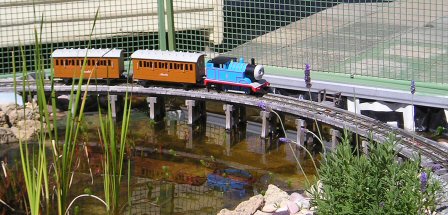 The club has a large outdoor G scale railway (various scales from about 1:22 to 1:30 (nominally 1:24), running on 45mm gauge track) that runs around the outside of the clubrooms. It is completely level and elevated to about three feet to permit easy eye-level viewing when seated.
All of the infrastructure of the G scale layout has been scratch built using many recycled materials. The most significant purchase was the brass rail and the thousands of screws used to hold it down to the sleepers — each of which was cut from recycled timber.
A hand operated rolling rail bender was designed and built within the club to allow the brass rail to be bent (or straightened) to any desired radius. All of the points (and even one cross-over) have been scratch built by hand and customised to the intended installation location. Several bridges have also been scratch built to add interest.
One end of the railway consists of a large loop running over a pond and through a small tunnel under a waterfall. This area is part of the public area of the club and permits Mum and Dad to enjoy a cuppa while the kids watch the trains.
The G scale railway runs on radio controlled battery feed and (occassionally) live steam.