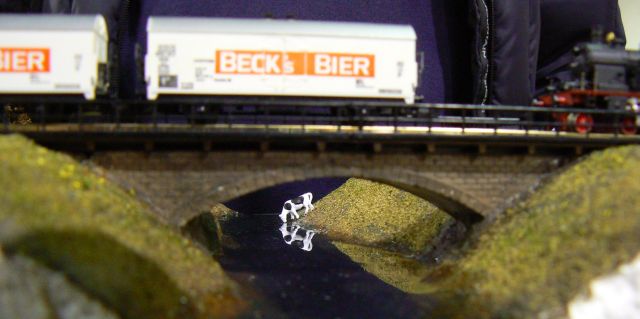 It was full steam ahead last night down at the club trying to get ready for RailFest this Sunday. With the N‑Scalers only just back from the Albany Hobby Expo, and the Arid Australia boys still making their way back from Sydney, we are not as prepared as we normally are.
All members are requested to come along on Sunday for as long as they can — not just the one or two hours you have put your name down for on the public layout roster. It appears likely we could be short of people!
—
The picture above is from the N‑Scale layout whilst on display at Albany. It shows the brilliant effect that can be achieved by using "Glass Coat" 2‑part epoxy resin for simulating water. The picture is of a cow drinking from the river (complete with reflection) viewed under the bridge on the new terminus station module constructed specially for this exhibition. On the rails above, a German beer train is being shunted by a steam engine.
I'll post some more pictures from the exhibition soon.