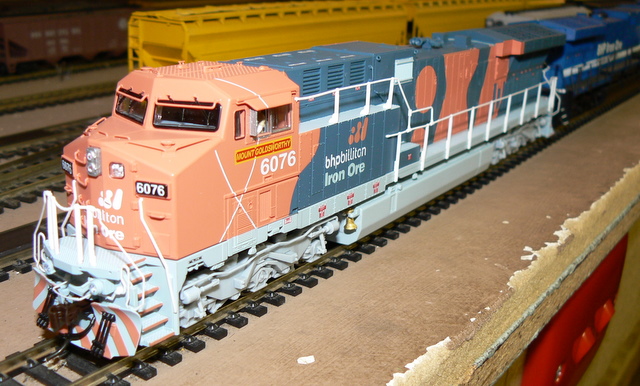 Spotted at the club was this model of BHP Iron Ore's new "bubble" livery. I remember when the new BHP Billiton company logo was unveiled, a TV comedian commented that it looked like a "Teletubby had too much Fanta and threw up". I think this new livery captures the essence of that very nicely!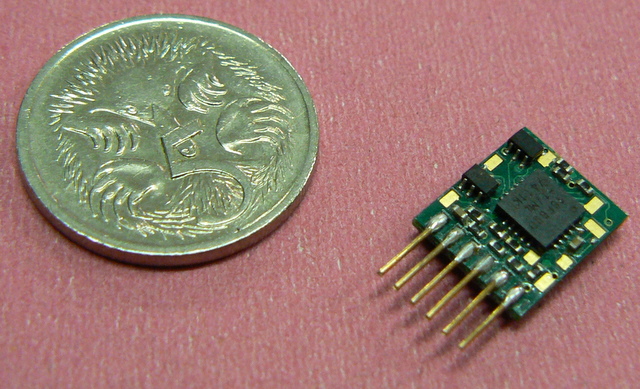 Garry W. brought in a DZ125IN DCC decoder from Digitrax. This is a 1 Amp basic decoder which he was able to buy (in bulk) from the US for A$25 (including freight) to his door. It is ridiculously small and is shown here next to a 5 cent piece for comparison.
Also spotted were Peter O. doing some more scenery work on the first finger (green shirt, green jacket, green paint, hmmm — I see a trend here), and for some inexplicable reason Rowan B. was wandering around the club rooms carrying a big stick. Notice the resilience of youth — it was a cold evening (everyone was wearing jeans and jackets), yet here Rowan is wearing shorts and a T‑shirt.
Unfortunately that was all I saw as I then got stuck in a committee meeting for an hour and three quarters (yes — I timed it) ahead of the general meeting next week. By the time that had finished everyone had gone home!