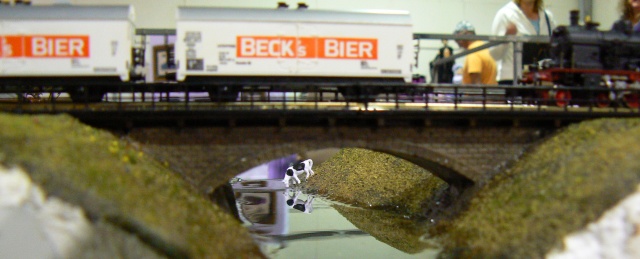 Our good friends, the Albany Model Railway Association are once again holding the bi-annual Albany Hobby Expo in the Albany Centennial Hall Pavilion (Lockyer Avenue, Albany), on the 9th and 10th of October 2010 (the last weekend of the school holidays). Opening times are 10am to 5pm on the Saturday and 9am to 4pm on the Sunday. [These dates were originally going to clash with RailFest, but RailFest has now been postponed to 31st October.]
For general enquires about the exhibition, please contact Peter Pocock on 0419 967 991 or Chris Winton on 9841 8136.
The Albany Hobby Expo is always an enjoyable, relaxed exhibition. Although the WAMRC has exhibited the past two times it has been held, this year we are unable to make it unfortunately.
Image: Cow reflected in a stream on the WAMRC N‑Scale exhibition layout at the Albany Hobby Expo 2008