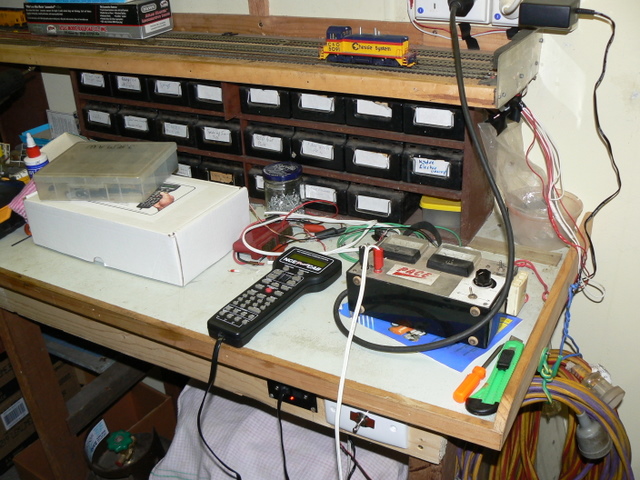 We finally got the the new NCE PowerCab DCC controller and old Pace DC controller properly wired into a changeover switch in the workshop. This now means both DCC and DC locos can be repaired, cleaned and programmed (well the DCC ones can be programmed at any rate), without messing with the "round and round" boys playing on the main layout. The toggle switch can be seen on the fascia below the (very messy!) work bench in the picture above.
There are N‑scale tracks in there too, so the "mice men" are catered for also. They are on a smaller second shelf above the HO tracks at the top of the picture.
Other things going on down at the club tonight: Garry W. & Graham R. hard at work propping up the N‑scale layout, Peter T. busy working on the N‑scale wiring, Harry G. moving on to the next patch of scenery backboard, and Peter O. fixing some HO points. It was a very warm day today, so the new air-conditioning was put to very good use tonight!