WAMRC

— Vale Jack Stanbridge

Jack Stanbridge was associated with the WAMRC in one form or another since the second meeting of the club in 1957, and at the time of his death he remained an honorary member of the WAMRC. The following article appeared as the frontpiece of The Branchline, the (paper) newsletter published regularly by AMRA(WA), in the issue following his death in 1999.
---
The 'father' of model railways in Perth, Jack Stanbridge, died peacefully on Sunday 21 March after a short battle with cancer. His passing cannot be better put than by a poem which appeared in the Death Notices.
My engine is now cold and still
No water does my boiler fill
My coal affords its flame no more
My days of usefulness are o'er
My wheels deny their noted speed
No more my guiding hand they heed
No more I feel each urging breath
My steam is now condensed in death
Life's railway's o'er, each station's passed
In death I'm stopped and rest at last
'Vale' is a strange word — it's the imperative [or commanding] form of the Latin 'valeo' and it means 'be well'. But how can Jack Stanbridge be well when he is dead?
He can — he can be well remembered by all whose interests have been moulded by his influence upon them. We all travelled on the 'train' that Jack's 'engine' pulled. Most of us got off his 'train' at one or more 'stations' on the way but a few of us would have travelled the whole line with him.
His journey started on 11 February 1915, at 522 Hay Street, Perth [near the Town Hall] and, later as a child, he lived at 285 Lord Street, East Perth, close by the then East Perth loco depot of the Western Australian Government Railways where his interest in railways accelerated.
In 1942, Jack married Patricia [or 'Patsy', as she is usually known] and they have two daughters, Elaine and Valerie, who between them have five children — grandchildren to Jack — and, in turn, two great grand-children that Jack doted upon. None could possible have escaped being infected by Jack's enthusiasm for railways!
Jack reached the end of the run on 21 March, after a journey full of challenges and after passing many 'intermediate stations' on the way. But what were these 'intermediate stations' where the rest of us got off and, sometimes, got on again to go to the next 'station'? In brief.….
The Hobby Shop — as told by Jack himself in the December 1998 issue of 'The Branchline', his panel beating business at 5 Ascot Road [later renamed Great Eastern Highway] near the Causeway was supplemented in November 1948 by being able to sell Hornby trains and other Meccano products. In the 1950s when the land was needed for a large roundabout at the eastern end of the Causeway [now replaced by the flyover], he moved the business to 54A Canning Highway [trains on the top floor, panel beating down below] and later, when panel beating took second place and the hobbies were taking over, across the road to a little old house at No. 61. It seems that there were even 'branches' at 863 Albany Highway, Victoria Park and at 348 Wellington Street in the City.
When No. 61 was needed for re-development, Jack moved the business to East Perth, initially and temporarily to Lord Street near the 'Norwood' and then to No. 19 Guildford Road, opposite the Mount Lawley subway.
Jack sold the business nearly twenty years ago and, very wisely, wrote in a caveat that the name 'Stanbridge's Hobby Shop' should remain. A subsequent owner moved across the road to the present location at 21 Railway Parade with a floor area about ten times that of No. 19.
Many memories come flooding back when we think of these 'Aladdin's Caves' of Jack's, of the personal advice and assistance he gave freely to even the dumbest novice and, for those of us who were 'young bucks', of the very attractive and well built female assistant that Jack employed at one stage! There can be very few railway modellers from the 1950s through to the early 1980s who did not relish getting off at Jack's 'Hobby Shop' station and were influenced by him when they did — they usually bought something from him!
The grief that Jack suffered when vandals set fire to and totally destroyed a 'Gilbert Car' [a truly historic relic from the WAGR]. As a reminder, he kept the ornamental wrought iron balustrading from the end balcony in the beautiful garden at his home at Forrestfield, where he had a 7¼″ gauge track around the property to run his 'Governor' railcar, among other things.
The assistance and advice he gave freely to the setting up of other miniature railways. The Toodyay operation initiated by Barry Pearce benefited greatly from this.
Rail Transport Museum — Jack joined the Australian Railways Historical Society soon after the WA Division was formed in 1959 and he served for a period in the 1980s on the Divisional Council.
During this period he was greatly committed to saving 'Governor Lawley', the last of the WAGR's six ADE 'Governor' Class diesel railcars which had lain derelict at Albany for many years. When offered to ARHS Jack surveyed it. As the bodies of these railcars were built like buses, Jack with his panel beating background felt that it could be restored to museum condition. However, another party brought the railcar to Perth where it languished for some time and 'Governor Lawley' was eventually dismantled by its owner.
Jack would surely have been No. 1 Ticket Holder in the 'Governor Class Railcar Fan Club'. This is evidenced by their ten page treatment in Volume 2 of his 'Rails and Wires' book and by his Gauge 0 model from the 1930s and his later 7¼″ gauge IC powered version.
Tramways — Jack's interest in the Perth and Fremantle trams and the Perth trolley buses led to him being one of the keen 'young bloods', [Don Tyler and Lindsay Richardson among them] depicted on page 71 of Volume 2 of his 'Rails and Wires' book, who formed the Perth Electric Tramway Society.
Model Railway Clubs — Jack was a founder member of the Model Railway Club of Perth in 1930 — the Club had a Gauge 0 garden railway in the rear garden of his parents' shop at 285 Lord Street. This later became incorporated with the Hornby Railway Company as Branch No. 264. In later years, Jack joined the West Australian Model Railway Club, offering his services at each Royal Show.
Jack was also a member of the Australian Model Railway Association exhibiting his Gauge 0 models from the 'early days' at the Western Australian Branch's Model Railway Exhibition in 1996. In 1997 and 1998 he exhibited his more recent HO scale layout of Perth City station and its environs.
The WA Branch was very pleased when, some seven years ago, Jack agreed to a trophy being named after him as recognition of all that he had done for the Model Railway Hobby over so many years. The Jack Stanbridge Trophy is awarded annually to the 'Best Model Railway at the Exhibition as seen by Exhibitors of operating model railways at the Model Railway Exhibition'. This award of Trophy is rightly seen as a great honour.
Jack's journey through life has touched many of us and we are all the better for this. The Supreme Controller has given Jack a 'clear road' and 'green boards' all the way to the terminus.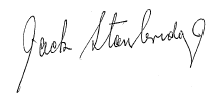 We extend our sincere condolences to Patsy, Elaine and Valerie and their families in their loss.
Jack Stanbridge will always be well remembered by all of us.