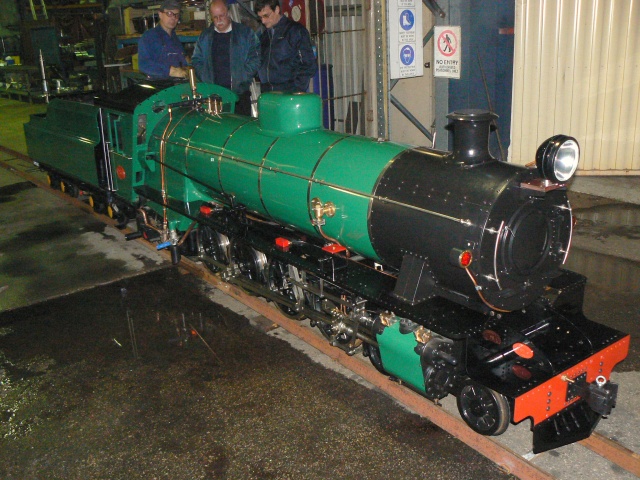 On 24th June, I had the pleasure and privileged of tagging along on a site visit to Kentin Engineering in Malaga, to view two recently completed 12″ gauge miniature W‑Class steam locomotives. The site visit was organised by the Mechanical Branch of the WA Division of Engineers Australia. Read more to see the photos I took and see a copy of the excellent presentation given that night.
Image: Miniature W‑Class Steam Loco No. 961 in steam at Kentin Engineering
They say a picture is worth a thousand words, so here's a whole bunch of them — some video too! (Click on the slideshow to view the photos in more detail.)
These two locos (numbered 961 and 962 — following on from the WAGR W‑Class numbering sequence of 901–960) have been built as 2:7 scale (12″ Gauge) miniature replicas of the WAGR W‑Class steam locos. Although the original Beyer, Peacock and Company plans were used in their design, they are not exact scale replicas — the design brief calling for safety, efficiency and aesthetics as the primary design goals. As such, they are instantly recognisable as W‑Class steam locos, but a discerning eye will note that the buffer plates and frames are thicker than they should be if it was truly to scale, the tender internals are completely different, and of course the cab arrangement is designed for driving by someone sitting in the tender, not standing on the footplate!
A fascinating presentation about the research, design, construction and testing engineering process was given on the evening by the principal project engineers Richard Stuart and David Naeser. A copy of the presentation is available here:
W‑Class Presentation. My thanks to the team for allowing me to reproduce the presentation here.
These two locos have apparently been commissioned by a local WA businessman. Although all of those present at the evening were very open and happy to answer any technical questions about the locos, they remained loyal to their client's request for anonymity despite multiple queries!
Although the railway they will run on is not yet operational, the team is not resting on their laurels. They are now working on the design for a miniature replica of a South Australian Railways 400 Class articulated Garratt loco for the same client!